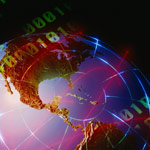 Optical Fiber Communications
Chuang Liang, Kim Fook Lee, Todd Levin, Jun Chen, and Prem Kumar, "Ultra Stable All-Fiber Telecom-band Entangled Photon-Pair Source for Turnkey Quantum Communication Applications," Optics Express Vol. 14, No. 15, 6936, 24 July 2006.
Y. Takashima,1 L. Hesselink,1 J. Liu, and L. Yang, "Novel Optical Architecture for High Capacity and High Data Transfer Rate Holographic Data Storage," CLEO 2011, paper JMG7.